Upcoming Events
TODAY
4:30PM - 6:15PM Thu 6 Aug 2020 ( Timezone: Pacific )

All alumni are welcome to attend the HLSA or Northern California Summer Reception with Julián Castro '00. Advance registration is required. Sponsored by Farella Braun + Martel LLP.

6:00PM - 8:00PM Sat 29 Aug 2020 ( Timezone: Mountain )

Join us for our annual test party!
Virtual Events
Social distancing requirements have introduced an opportunity and need to convene virtually. Check out the

Virtual Resource Library

for

guidance on hosting digital events.

Fall 2020 Update: Harvard Law School announced that the Fall 2020 semester will take place online on June 3, 2020. For more information about this announcement, please see

Dean John F. Manning's letter to students

.
HarvardKey

HarvardKey is a secure login and password to streamline your access to several online alumni tools and benefits.
Visit

key.harvard.edu

to claim your HarvardKey today.

Need personalized help? Contact the HLS HarvardKey support line at +1 617-495-5631 or

alumrec@law.harvard.edu

.
Amicus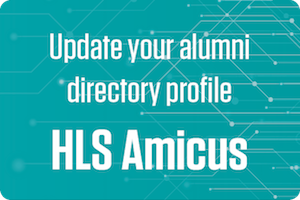 HLS Amicus is a community building tool, featuring an alumni directory, with advanced search and messaging capabilities.